Wendy Mode Knitting Patterns Book 332 Chunky DK Aran Designs
---
Wendy Mode Knitting Patterns Book 332 Chunky DK Aran Designs
£6.95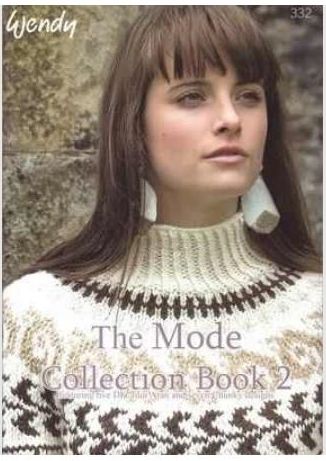 Wendy Mode Collection Book 2 knitting patterns book number 332 features five DK, four Aran and seven Chunky wool designs created using Wendy Mode DK, Mode Aran, Mode Chunky hand knitting wool. The collection includes patterns for warm woolly knits for men, women and children, that are perfect for cold Autumn, Winter and Springtime days (and nights!). All aran garments will knit to Wendy Serenity and Wendy Aran With Wool. All DK garments will knit to Wendy Skye DK, Wendy Supreme Luxury Cotton DK, and Twilleys Freedom Gorgeous. Actual yarn amounts will vary, according to individual knitters tension and sizing requirements. As with all pattern booklets, this item is not returnable. We also stock Wendy Mode Merino Chunky yarn, Wendy Pampas Mega Chunky wool, Robin Aran yarn, wood toggle buttons, bamboo/coloured knitting needles sets and cable pins. The gorgeous collection of designs in this pattern booklet are:
Design 1 Wendy Mode Aran dropstitch cardigan 32/34" up to 44/46"
Design 2 Wendy Mode Chunky textured jacket with pocket detail, and sweater for sizes 26" up to 46"
Design 3 Wendy Mode Chunky cable knit cardigan, and round neck sweater, for ages 0/6 months up to 4/5 years
Design 4 Wendy Mode DK lace edged cardigan for sizes 32" up to 42"
Design 5 Wendy Mode Aran cable tunic sweater with cable style pattern 32" up to 42"
Design 6 Wendy Mode Aran cable knit hoodie sizes 30" up to 42"
Design 7 Wendy Mode Aran unisex sweater 28/30" up to 44/46"
Design 8 Wendy Mode Chunky round neck sweater, cardigan and cowl hood (on design 10) to fit ages 4/5 up to 10/11 and sizes 32" up to 42"
Design 9 Wendy Mode DK 3 button cable design waistcoat 30" up to 42"
Design 10 Wendy Mode Chunky scarf with twisted cable and pom pom detail
Design 11 Wendy Mode Chunky unisex Icelandic style sweater to fit sizes small 36/38", medium 40/42" and large 44/46"
Design 12 Wendy Mode DK pocket design sweater and cardigan to fit age 6/12 months up to 6/7 years
Design 13 Wendy Mode DK long line deep "v" neck vest with pocket detail for sizes 32" up to 42"