Tricolour Ribbon Red White Blue Striped Tri-Colour Patriotic Trim 25mm
---
Tricolour Ribbon Red White Blue Striped Tri-Colour Patriotic Trim 25mm
£1.65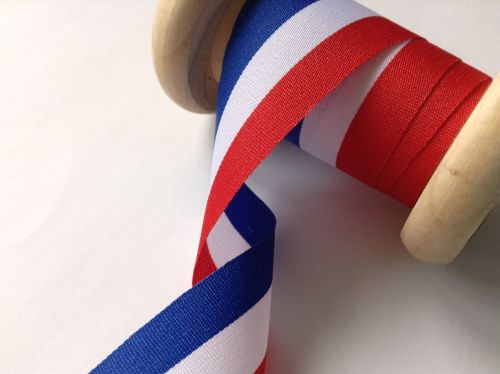 A one metre length of
traditional style patriotic striped tri-colour fabric flag ribbon trimming. Manufacturer's product shade number 0402. Colour: red, white and blue. Made by Colour Ribbons (a British company). Approximate width: 25mm (1"
). Material: 100% polyester. Excellent quality, versatile smooth ribbon for embellishment, decor, sashes, maypoles, corporate events, promotional material, straw boater hats, clothing bags, sports day banners, medals, trophies, parties, celebrations, adorning handicrafts, stylish giftwrap, and decorative crafts. Please note that the wooden bobbin featured in our stock photograph is for display purposes and is not supplied.

If you need more than one length of ribbon, please enter the amount required in the quantity box. Multiple purchases of fabric are supplied as a continuous length of ribbon whenever possible. This product is not returnable because it is cut to order to the customer's requirements direct from the manufacturer's reel. Photo for illustration purposes, one metre length of tricolour ribbon supplied per purchase

.
Tri-coloured ribbon is available in a 40mm-45mm width, plus printable 100mm sash ribbon, and spider web netting/organza fabric