Light Blue Satin Bias Half Metre Length Trimming Ribbon
---
Light Blue Satin Bias Half Metre Length Trimming Ribbon
£0.40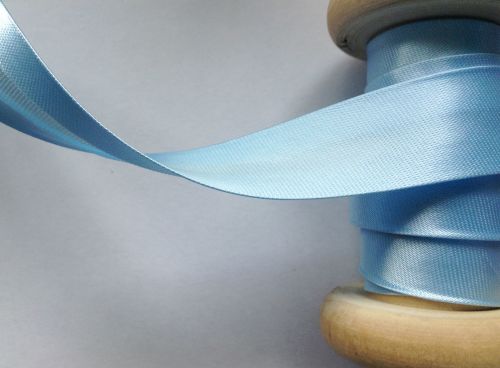 Half a metre (19.69"/50cm) of light blue colour satin bias binding. Approximate width 19mm (¾") with two folds on the reverse side (19mm is the width of the fabric pre-folded and not opened out). Made in England. Manufacturer's product shade number 008 Beau Blue. Material: 100% premium acetate satin. Please note that the wooden bobbin is for display purposes and is not supplied. This is soft and smooth trimming tape for wedding garments, gowns, cloaks, capes, basques, corsets,
dancewear, piping, seam binding, evening wear, ballroom costumes, prom dresses, applique, crafts, theatrical clothing, bunting, and patchwork. If you need more than one length of bias, please the enter the amount required in the quantity box. Multiple purchases of fabric are supplied in one continuous length whenever possible. This item is not returnable because it is cut to order to the customer's requirements direct from the reel. Photo for
illustration purposes, half a metre of trimming ribbon supplied per purchase.
We stock light blue 72mm satin ribbon, buttons, sewing thread and webbing tape