Lemon Blanket Binding Pre-Folded Satin Ribbon Trim Per Half Metre
---
Lemon Blanket Binding Pre-Folded Satin Ribbon Trim Per Half Metre
£1.20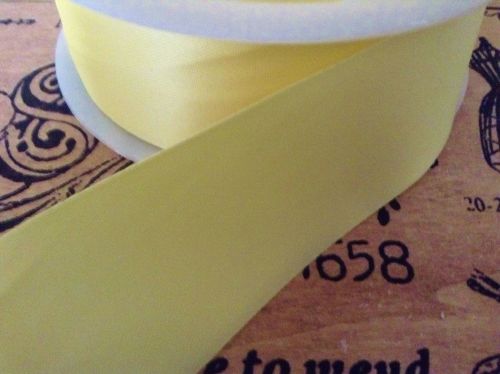 Perfect if you need just a small amount of trimming ribbon to complete your crafts or sewing project. Half a metre length of yellow satin blanket binding fabric tape. Manufacturer's product shade number 041 Lemon. Made in England. Total approximate width is 72mm, supplied pre-folded with a single fold to 36mm. Material: 100% premium acetate satin. Blanket binding is used to repair blanket edges and for baby pram rugs. This versatile fabric ribbon trimming may be used to create edges around household linens and home furnishings, for seam binding, flower bouquets, wedding favours, garment trims, sewing and craft projects. Soft to the touch, perfect for adding a luxurious edging trim to your blanket, or make do and mend project. Some of our blanket binding stock photographs feature a wooden bobbin - this is for display purposes only and is not supplied with any of our fabrics. Handy hint: s
atin blanket binding is often machine-stitched onto the blanket using a decorative/zigzag stitch, or straight stitch setting. Hand sewing may result in a "puckered" finish. Generally, clear (invisible), or matching colour thread is used. Blanket binding is usually applied at the head and foot of the flat piece of fabric, but it can be stitched all the way around. If you need more than one length of satin ribbon, please enter the amount required in the quantity box. Multiple purchases of fabric are supplied as a single continuous length of ribbon whenever possible.
Photo for illustration purposes, half a metre length of trimming supplied per purchase. Product may require ironing before use due to creasing from storage. This item is not returnable because it is cut to order to the customer's requirements direct from the manufacturer's reel.
Pre-folded blanket binding is supplied with the fold slightly off centre and it is the "shorter" side of the ribbon that you will need to keep on top when m/c stitching the blanket. Stitch slowly to sew a straight line and catch the top & bottom edges of the blanket when you stitch.
We stock blanket binding in 1 metre/3 metre lengths, 100mm/72mm unfolded satin ribbon and sewing supplies