Crochet Cotton - Pink Variegated 10s Tatting Thread
---
Crochet Cotton - Pink Variegated 10s Tatting Thread
£6.99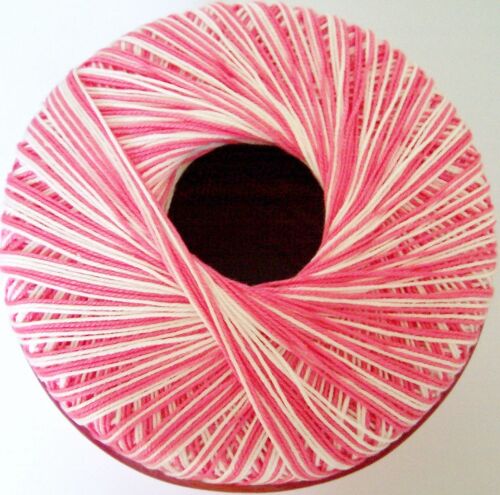 One ball of number 10 Crochetta cotton in a variegated pink, white colour.
Crochetta is a mercerised cotton yarn for shawls, lightweight clothing, filet crochet, lace making/tatting, doilies, tablecloths and accessories
. Number 10 count yarn is also known as 10s or 10 tkt (ticket) and is similar to 3ply. Yardage: a
pproximately 350 yards/320 metres per ball. 100% colourfast cotton.
A recommended crochet hook/knitting needle size is not provided on the Crochetta ballband label. However, this cotton is similar to 3ply and a regular 3ply yarn may use either 3mm knitting needles or a size 2mm crochet hook. We also sell plain pink colour thread, DMC Cordonnet, Petra, Pixie 20s, Twilleys 30s, and dk/chunky wool