Patons Fairytale 3ply 4ply dk Knit Crochet Patterns Book 322
---
Patons Fairytale 3ply 4ply dk Knit Crochet Patterns Book 322
£7.75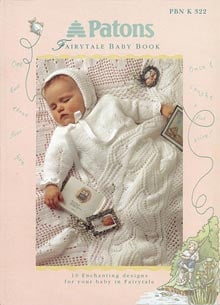 This Patons Fairytale Baby Knitting/Crochet Patterns Book 322 has more than ten enchanting designs for babywear. The garments are created using 3ply, 4ply, or double knitting yarn. To fit sizes 16" chest (41cm), up to 22".
All of the patterns are for knitted items, apart from a crocheted shawl (design 2). As with all of our pattern books, this item is not returnable. The designs in the booklet are for:
*Design 1: 3ply, or 4ply/dk crew neck or v neck sweaters (knitted)
*Design 2 (crochet): 3ply shawl size when blocked is approx. 145x145cm (57" x 57"). requires 13 x 50g balls.
*Design 3: sweater with "bobble" design (knitted)
*Design 4: jacket with collar, hat and socks (knitted)
*Design 5: jacket with "diamond" design (knitted)
*Design 6: pram set: sweater, leggings, bonnet and bootees (knitted)
*Design 7: circular shawl knitted in 3ply. size when blocked 158cm/62". requires 8 x 50g balls
*Design 8: layette: gown, coat, bonnet and bootees (knitted)
*Design 9: 4ply/dk crew neck and v neck cardigans (knitted)
*Design 10: 4ply cardigan and bobble hat (knitted)