Dark Green Satin Ribbon 72mm Wide
---
Dark Green Satin Ribbon 72mm Wide
£3.90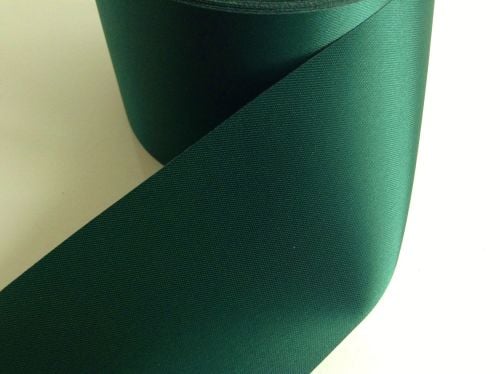 Three metres of dark green colour satin ribbon for dressmaking and crafts. Manufacturer's product shade number 024 Bottle Green. Made in the U.K. Approximate width 72mm (2.83"). Material: 100% premium acetate satin fabric. Outstanding quality silky smooth woven single sided/single faced ribbon

for gift wrap, sewing seam binding, florist bouquets, decorating venues, table swags, chair bows, floristry, party/wedding favours, civil ceremonies, christenings, birthdays, corporate events, anniversaries, valentines, promotional material,

etc. Also used

as a binding to repair blanket edges/baby pram rugs, create a finished edge around patchwork quilts, cushions and curtains. Please note that the wooden bobbin featured in our stock photograph is for display purposes and is not supplied.

If you need more than one length of trimming, please enter the amount required in the quantity box. Multiple purchases of fabric are supplied as a continuous length of ribbon whenever possible. This product is not returnable because it is cut to order to the customer's requirements direct from the manufacturer's reel. Photo for illustration purposes, three metres of ribbon supplied per purchase

.
We stock
72mm pre-folded blanket binding, 100mm ribbon, dark green satin and cotton bias binding, satin daisy braid and webbing tape